EGO Power+ LM2101 21-Inch 56-Volt Lithium-ion Cordless Lawn Mower 5.0Ah Battery and Rapid Charger Included Mower Kit / 21-In.

Cordless Lawn Mower 21" Self Propelled Kit LM2102SP
If you are looking for a way to mow your lawn that has less mess, less carbon footprint, and no fumes to content with, the 21 in. 56 Volt Lithium-Ion Cordless Walk Behind Self Propelled Mower Kit with 7.5 Ah Battery and Charger Included is the way to go. With all of the toque of the standard gas powered motor, this self-propelled lawn mower makes it easy to work through the toughest of mowing conditions. The forward propelling motion makes it quick work without strenuous effort pushing the mower over uneven terrain or up an incline. The mower offers a 6 position deck height adjustment, with a 21 inch deck width cutting span. In a sharp gray and green color finish, this mower does more than just look stylish in your garage. The mower is powered by a 7.5Ah lithium-ion battery, which is superior to other industry options. The Ego power+ systems are all capable of sharing similar battery power, making both the batteries and the charges compatible with other product in the Ego power+ line. The battery boasts a rapid recharge with just an hour required for a full charge. The one hour charge also gives the user about an hour of cut time. The LED headlights make it easy to see where you are headed with your lawncare, and the mower itself delivers professional grade results. With the Ego line of power+ products, you can give your lawn the best care possible and leave your neighbors jealous of the results.
FEATURES
5 year limited warranty
Mulching/Bagging/Side discharge
Push button start
Folds for easy storage
21 inch cutting span
Single lever deck-height adjustment
Rapid rechargeable lithium-ion battery
Folds easily for compact storage
Push-button start
Single-lever, 6-position deck-height adjustment
Easy-access 2 bushel grass collection bag
LED headlights
5-year limited warranty
60-minute charge time with included battery and charger
7.5 Ah 56 Volt battery is compatible with all Ego products
SPECIFICATIONS


WHY THIS MOWER IS AWESOME
The POWER+ 21" Mower delivers durability in all weather conditions. The self-propelled function is variable speed; pick your pace. The EGO POWER+ 21" Self-Propelled Mower delivers the torque of gas. No other cordless mower matches or surpasses the power of gas mowers. Compatible with all EGO POWER+ ARC Lithium™ batteries (available separately) to deliver Power Beyond Belief™.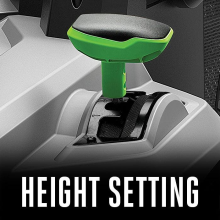 6 DIFFERENT HEIGHT SETTINGS
Adjust deck height between 6 different height settings 1.5" – 4".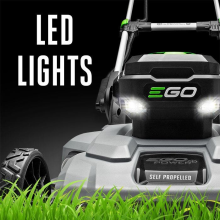 BRIGHT LED LIGHTS
Mow at dawn and dusk.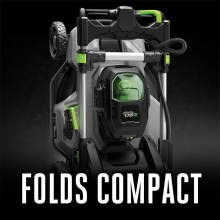 FOLDS EASILY FOR COMPACT STORAGE
Folds easily for compact and easy storage.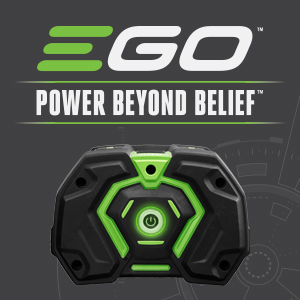 POWER BEYOND BELIEF
Long-lasting power, rapid charging and durability in all weather conditions. Unique arc design and Keep-Cool battery technology keep each cell cool for long life and hard work in the most extreme conditions. Integrated fuel gauge to let you know how much power is left in your battery. ARC Lithium™ battery is compatible with all EGO POWER+ Power Equipment and chargers. 3 Year Limited Warranty.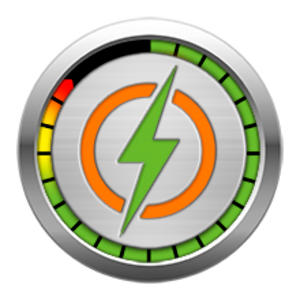 CHARGES FASTER
Delivers fast recharge times, recharge your 5.0 Ah battery in as little as 100 minutes .
<img class="sep-lazyload lazyautosizes lazyloaded" data-sizes="auto" width="300" data-srcset="https://img.staticdj.com/025ea6bba457314b6b2b24ede7a14548_360.png 48w, https://img.staticdj.com/025ea6bba457314b6b2b24ede7a14548_360.png 180w, https://img.staticdj.com/025ea6bba457314b6b2b24ede7a14548_360.png 360w, https://img.staticdj.com/025ea6bba457314b6b2b24ede7a14548_360.png 540w, https://img.staticdj.com/025ea6bba457314b6b2b24ede7a14548_360.png 720w, https://img.staticdj.com/025ea6bba457314b6b2b24ede7a14548_360.png 900w, https://img.staticdj.com/025ea6bba457314b6b2b24ede7a14548_360.png 1024w, https://img.staticdj.com/025ea6bba457314b6b2b24ede7a14548_360.png 1280w, https://img.staticdj.com/025ea6bba457314b6b2b24ede7a14548_360.png 1366w, https://img.staticdj.com/025ea6bba457314b6b2b24ede7a14548_360.png 1440w, https://img.staticdj.com/025ea6bba457314b6b2b24ede7a14548_360.png 1536w, https://img.staticdj.com/025ea6bba457314b6b2b24ede7a14548_360.png 1600w, https://img.staticdj.com/025ea6bba457314b6b2b24ede7a14548_360.png 1920w, https://img.staticdj.com/025ea6bba457314b6b2b24ede7a14548_360.png 2056w, https://img.staticdj.com/025ea6bba457314b6b2b24ede7a14548_360.png 2560w, https://img.staticdj.com/025ea6bba457314b6b2b24ede7a14548_360.png 2732w, https://img.staticdj.com/025ea6bba457314b6b2b24ede7a14548_360.png 2880w, https://img.staticdj.com/025ea6bba457314b6b2b24ede7a14548_360.png 3072w, https://img.staticdj.com/025ea6bba457314b6b2b24ede7a14548_360.png 3200w, https://img.staticdj.com/025ea6bba457314b6b2b24ede7a14548_360.png 3840w" sizes="300px" srcset="https://img.staticdj.com/025ea6bba457314b6b2b24ede7a14548_360.png 48w, https://img.staticdj.com/025ea6bba457314b6b2b24ede7a14548_360.png 180w, https://img.staticdj.com/025ea6bba457314b6b2b24ede7a14548_360.png 360w, https://img.staticdj.com/025ea6bba457314b6b2b24ede7a14548_360.png