QUICK AND EASY: MATRIX Quick Connect System allows you to quickly and easily change out heads to complete your projects faster

SAVE MONEY + SPACE: The MATRIX system is more cost effective and saves more space in your home than dedicated power tools

ALL AROUND THE HOME: Comes with the MATRIX base and 6 attachment heads, great for any DIY home project

COMPACT STORAGE CASE: The compact design of the MATRI tools and storage case take up much less space than having 6 dedicated tools

ONE SYSTEM, ONE BATTERY: POWERCONNECT battery system powers your DIY projects with the same 20V MAX* battery (Maximum initial battery voltage measured without a workload is 20V. Nominal voltage is 18V)

The BLACK+DECKER 20V MAX* MATRIX power unit is compatible with BLACK+DECKER 20V MAX* batteries only.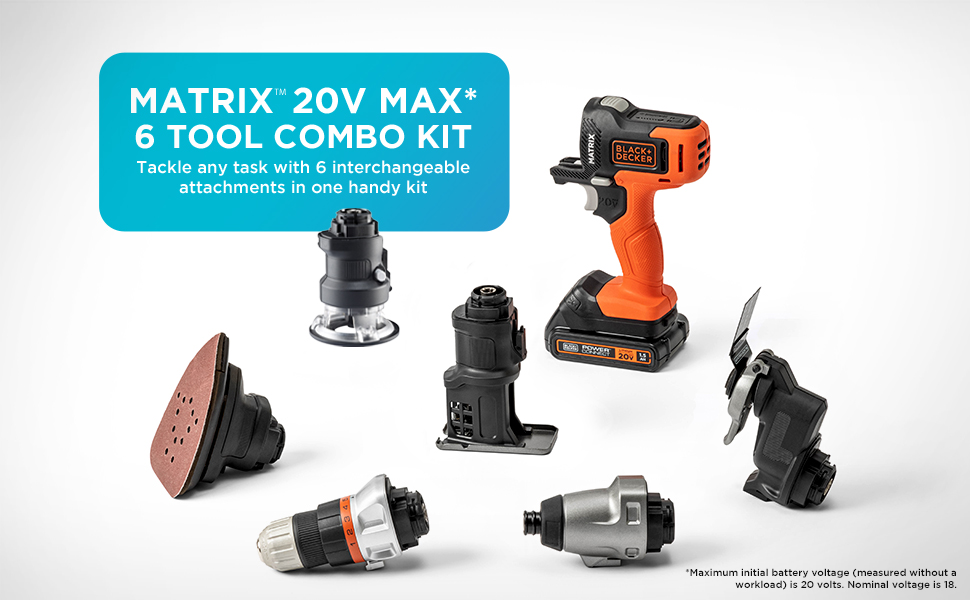 This kit includes a Drill/Driver, Sander, Jig Saw, Impact, Router and Oscillating Multi-Tool attachment.
MATRIX Drill Attachment

11 adjustable clutch settings deliver the right torque setting to reduce the chance of stripping and overdriving screws. Rugged comfort grip handle for ease of use during DIY projects.

MATRIX Jig Saw Attachment

Designed for tool-free blade changes, making swapping blades fast and easy. Accepts both U and T shank blades, and both wood and metal cutting blades. *Only wood-cutting jig saw blade included in this kit.

MATRIX Sander Attachment

Can be used for finish sanding, detail sanding, and paint removal. Convenient hook and loop sandpaper feature for quick sandpaper changes.
MATRIX Oscillating Multi-Tool Attachment

Can be used to cut drywall, metal, wood, and more with the included blade. Features a tool-free blade release for quick and easy accessory changes.

MATRIX Router Attachment

Can be used for trimming, small-edge forming, decorative woodworking and more. Includes adjustable depth controls for increased precision.

MATRIX Impact Driver Attachment

Features a ¼" Quick Release Hex Chuck for rapid bit changes between different applications.

|   | | | | |
| --- | --- | --- | --- | --- |
|   | 6 Tool Combo Kit, Orange | Trim Saw Attachment | Reciprocating Saw Attachment | High Pressure Inflator Attachment |
| Model Number | BDCDMT1206KITC | BDCMTTS | BDCMTRS | BDCMTHPI |
| Primary Function | Variety of DIY tasks around the home | Straight Wood Cuts | Cutting Branches/Metal | Inflating tires and sports balls |
| Attachments Included | (1) Drill/Driver Attachment, (1) BDCMTS Detail Sander Attachment, (1) BDCMTJS Jig Saw Attachment, (1) BDCMTO Oscillating Multi-tool Attachment, (1) BDCMTI Impact Driver Attachment, and (1) BDCMTR Router Attachment | (1) Trim Saw Attachment | (1) Reciprocating Saw Attachment | (1) High Pressure Inflator Attachment |